The Lowing Products Production Guard
Grip gear to promote crew safety
Lowing Products has developed a new virus safety guard or sneeze guard designed for use specifically as a grip tool in the production industry. We are calling this tool the Lowing Products Production Guard. Please see pictures attached.
Our Production Guard is build using clear polycarbonate plastic with a black vinyl edging to protect users, gear and the plastic itself from damage. It incorporates a 3/8" pin on one end making it easily usable with 2-1/2" or 4" gobo heads just like a flag, a net or a cucoloris.
We offer the Production Guard in two common flag sizes of 18" X 24" X 1/8" thick and 24" X 36". X 3/16" thick Each one is supplied with a soft duvitene slip cover to protect it from scratches. This design is convenient to store on the grip truck with other flags or go out with small packages in flag bags, etc.
These sneeze guards have already become popular with crews, production and talent to ensure a greater level of safety and comfort as production begins to ramp up. It does this by allowing more people to feel comfortable working a bit closer together in this new normal.
These new products are being offered for sale on our production Shot Bags site at our online store
We also rent them to our local production clients and have been happy with the overall acceptance in these last two weeks. I do believe these tools are helping production confidently and safely get back to work work in closer contact environments.
Quantity and resale pricing is currently available but limited due the high costs of building a quality product.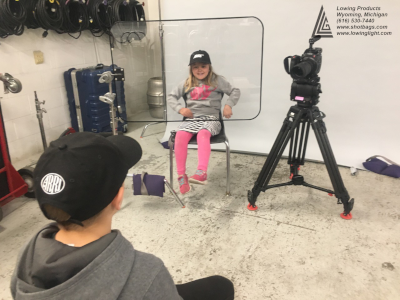 Production Guard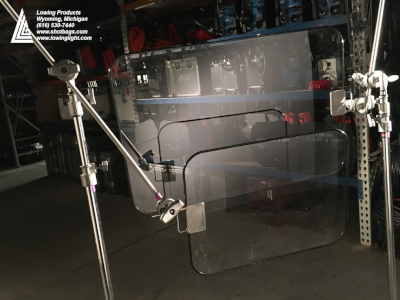 Production Guard Family